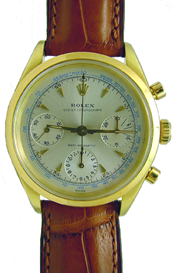 Sell Your Watch for Top Dollar
Whether you're an experienced watch collector or novice, you've come to the best web page to maximize value when selling your watch.
TheWatchBuyers.net is owned by Matthew Bain, a world reknown international watch buyer.
Matthew's vast knowledge of complicated watches includes chronographs, moonphase watches, minute repeaters, and pocket watches.
Matthew and his team of specialists at The Watch Buyers focus on buying high-grade watches such as Breitling, Rolex, Patek Philippe, Audemars Piguet, Vacheron Constantin, Cartier, FP Journe, A. Lange & Sohne, and many others.
The Watch Buyers will pay premium prices for watches that are in mint condition and have the original box and papers. We're also willing to fly both domestically and internationally to buy important watches and collections. All our transactions are confidential, safe and secure.
In addition to buying watches, we provide watch appraisals, auction placement, and watch restoration services that will help you get the maximum price for your watch. The Watch Buyers are also available to answer any questions you have about selling watches.
Why Sell to The Watch Buyers?
Unlike your local jeweler or estate buyer, we're watch specialists who are up to date on watch market values. In fact, your local jeweler typically calls us for watch evaluations. By selling your watches directly to The Watch Buyers, you eliminate the middleman and ensure that you receive top dollar for your watch.